Harvard Club of Minnesota Annual Picnic and Meeting
Maureen Steinwall has invited Harvard alumni, students, and their guests again to her Brooklyn Park home on the Mississippi for an afternoon of good fellowship. We will hold our Annual Meeting and elect board members. Sign up by Sunday, August 7.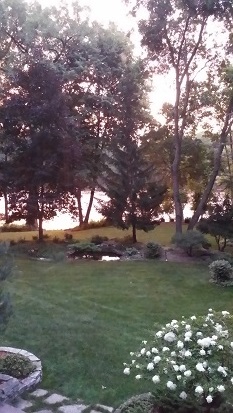 Click here to buy tickets!!!
Maureen's three-acre home on the Mississippi provides a wonderful place to socialize while enjoying the river view and breeze.
The event is open to all Harvard students and alumni. Children are welcome and are the parent's responsibility. If children will require a meal, a ticket must be purchased.
COVID-19 Precautions
The picnic will be held outside, weather permitting.
Please bring a mask in case you need to enter the house for any reason.
Each attendee will receive a box lunch. Please make your selection when you purchase a ticket.
Beverages will be provided in individual bottles and cans.
COVID-19 policy click to review
Annual Meeting
This is your chance to hear about the club's activities and participate in the annual election of board members You must be a member to vote. If you aren't a member yet, sign up here.
On the RSVP confirmation page that appears once you have paid, please select one of the following choices for box lunch:
Ham and Swiss Wrap Sandwich
Smoked Turkey and Cheddar Wrap Sandwich
Roast Beef and Cheddar Wrap Sandwich
Cashew Chicken Wrap Sandwich
Gluten-Free Turkey, Bacon and Avocado Lettuce Wrap
Gluten-Free Veggie Lettuce Wrap - tomato, avocado, shredded carrot and cucumber
If you have purchased guest tickets, please enter their names and meal choices on the RSVP page.
When and Where?
Sunday, August 14, 2022
2 PM - 4 PM
Address will be provided to attendees.