CEO Series: Marilyn Carlson Nelson on How We Lead Matters
Marilyn Carlson Nelson, former Chair and CEO of Carlson Companies, shares lessons from a lifetime of business and civic leadership. Her wise words at the annual Harvard Freshman Sendoff have inspired a generation of incoming students.
She h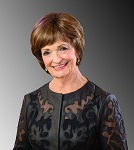 as been named one of "The World's 100 Most Powerful Women" by Forbes and one of "America's Best Leaders" by U.S. News & World Report. Minnesota's own, Marilyn Carlson Nelson, is recognized as one of the world's most respected business and community leaders.
As the former chairman and CEO of the global travel company, Carlson, Marilyn will share personal stories, insights and life lessons from her bestselling book How We Lead Matters: Reflections on a Life of Leadership.
Harvard Business School Professor, Rosabeth Moss Kanter, said this about Marilyn's book, "It gives us the pleasure of listening to Marilyn and being inspired by how values can make a difference in business and the world."
Marilyn's observations provide us with a rare opportunity to more fully understand what it means to be "called to business," to realistically assess what leadership asks of us and, ultimately, how to lead with love in our workplaces, homes and communities.
Her reflections on how her extraordinary life has unfolded as a global CEO, community icon, daughter, wife, mother and grandmother are wise, witty and, at times, heartbreaking. Throughout her story telling, Marilyn reminds us that a legacy is built one day, one choice at a time.
When and Where?
When:
6:00PM - 8:00PM Wed 5 Apr 2017, Central timezone

Where:
Dorsey & Whitney
50 South 6th St, Suite 1500
Minneapolis, MN 55402
[ Get Directions ]