CEO Series: Carlson Chair Diana Nelson
Carlson Chair Diana Nelson, Harvard AB 1984 and former Overseer, will speak about managing her family business in the face of industry changes. Free for all HCM members! Sign-up deadline Monday March 4.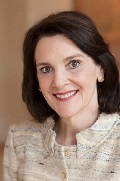 Ms. Nelson will focus on the accelerating pace of change in the hospitality and travel industry, how change affects Carlson's business, the operational and strategic moves she's taking, and the leadership needed to change the employees' behavior to adapt to the new world.
Special offer to current Harvard Club of Minnesota members and those eligible for membership: Renew your HCM membership or join the HCM on or after March 1, 2019 and receive FREE admission to this CEO series event. Your membership will be valid through June 30, 2020.
Signup deadline is Sunday March 3.
About Diana Nelson
Diana L. Nelson is Chair of Carlson, a global hospitality and travel company. She is the third person to serve in this capacity in the company's 80-year history.
Nelson has extensive board governance and leadership experience through her work with multiple for-profit and not-for-profit organizations. In addition to her role on the Carlson board, she serves on the board of governors of Carlson Holdings, Inc., and the board of directors for the Carlson Family Foundation. She also serves on the advisory board of Prime Group, a San Francisco-based real estate equity, debt, investment and operating platform.
Nelson is former Vice Chair of the Harvard University Board of Overseers and currently serves on the committee to oversee the Harvard Graduate School of Education. An advocate for education equity and providing opportunity for all children, Nelson sits on the board of Common Sense Media and has worked to expand Teach for America and the KIPP (Knowledge is Power Program) charter school network.
Nelson is a lifelong champion of the arts and is President of the Board of Trustees of the San Francisco Museum of Modern Art.
Raised in Minnesota, Nelson graduated magna cum laude from Harvard College. In addition to her degree from Harvard, Nelson holds an MBA in marketing from the Kellogg School of Management at Northwestern University. She and her husband John Atwater have five children and reside in San Francisco.
When and Where?
When:
6:00PM - 8:00PM Wed 6 Mar 2019, Central timezone

Where:
Dorsey & Whitney
50 South 6th St, Suite 1500
Minneapolis, MN 55402
[ Get Directions ]