Ballet Co.Laboratory presents Nutcracker in Wonderland
Ballet Co.Laboratory, recipient of a grant from the Harvard Club of Minnesota Foundation, presents your holiday favorite with a whimsical twist! Performances on December 13, 14, and 15.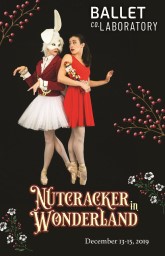 Nutcracker in Wonderland tells the story of grown-up Clara rediscovering the magic of her childhood. In true Nutcracker form, Uncle Drosselmeyer brings the Rat Queen and King to life, along with other Wonderland creatures. Audiences will waltz through the Land of Snowflakes while meeting all of their Wonderland favorites along the way, including the mischievous Cheshire Cat, the ever-late White Rabbit, and the spiteful Queen of Hearts.
Three performances:
Friday, December 13, 2019 at 7:30pm
Saturday, December 14, 2019 at 7:30pm
Sunday, December 15, 2019 at 2:00pm
Tickets $22/$28/$35, available at balletcolaboratory.org or at the door.
BalletCoLaboratory is a non-profit professional dance theater, school and company, supported in part by the Harvard Club of Minnesota Foundation, and dedicated to supporting students' dreams of achieving higher education and improving access to the arts for all.
When and Where?
When:
7:30PM Fri 13 Dec 2019, Eastern timezone

Where:
Huss Center for the Performing Arts, St. Paul Academy and Summit School
1712 Randolph Avenue
Saint Paul, MN
[ Get Directions ]