Duluth: 136th Harvard/Yale Game
Start a new tradition! Duluth area Harvard and Yale alumni are invited to watch The Game at Tavern on the Hill.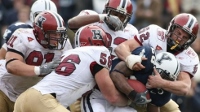 11:00 Doors open at kickoff time!
No charge to attend. Food and beverages available for purchase.
Wear your alma mater's regalia and cheer your team to victory!
Many thanks to John Kelly and Addie Byrne for arranging this.
RSVP to Addie at addie.byrne@gmail.com so she can make sure there is space for everyone.
When and Where?
When:
11:00AM Sat 23 Nov 2019, Central timezone

Where:
Tavern on the Hill
1102 Woodland Avenue
Duluth, MN 55803 USA
[ Get Directions ]