TCAN: Productivity with Heart - Align Your Values With Your Schedule
Does it seem like there aren't enough hours in the day to get everything done? Do you find your health or relationships taking a backseat to work responsibilities? Clarify your values and create a schedule that reflects your priorities.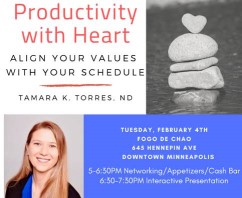 Tamara's passion is helping busy professionals align their values with their schedules to have the time and energy for what matters most. To this end, she founded Optima Results Coaching and launched the Productivity with Heart series. Like many of her clients, Tamara fills multiple roles as parent, partner, employee and entrepreneur. She is a graduate of Barnard College/Columbia University. Her background in psychology and integrative medicine, along with 10,000+ coaching interactions, has honed her unique skill set to help her clients achieve results. Her personal values include: Family, Health, Service, Autonomy, and Growth.
All Ivy/TCAN clubs are invited to this great event on Tuesday, February 4!
Lead Club: Penn
Cost: $7 for appetizers. Cash bar available.
RSVP: Please RSVP by January 30 to Owen Sessions at sessions.owen@gmail.com
Payment: At Event
Valet parking is available for $12. City Center Parking Ramp is $6 after 4pm, and is located at 33 South 6th St.
When and Where?
When:
5:00PM - 7:30PM Tue 4 Feb 2020, Central timezone

Where:
Fogo de Chao
645 Hennepin Avenue
Minneapolis, MN
[ Get Directions ]