The Challenge of Climate Change: Path to a Low Carbon Future. A talk by Prof. Michael McElroy
Harvard Prof. McElroy will address climate-related public policy challenges in developing and mature economies. A free, virtual lecture with Q&A.
Prof. McElroy studies changes in the composition of the atmosphere with an emphasis on the impact of human activity.
His research addresses challenges for public policy posed by the rapid pace of industrialization in developing countries such as China and India while exploring alternative strategies for more sustainable development in mature economies such as the United States.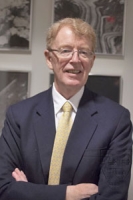 Michael McElroy is the Gilbert Butler Professor of Environmental Studies in the Paulson School of Engineering and Applied Sciences and the Department of Earth and Planetary Sciences.
McElroy chairs the Harvard China Project, an interdisciplinary research program on China's atmospheric environment, energy system, and economy, collaborating across schools of Harvard and partner universities in China. From 2001-2004, he was the Director of the Harvard University Center for the Environment.
Please use the "RSVP Here" form to register for this event. Unfortunately, our website won't email you a confirmation. Please check the "Look Who's Coming" list to verify that you are successfully registered.
When and Where?
When:
8:00PM - 9:00PM Wed 10 May 2023, Eastern timezone

Virtual Event Instructions:
Zoom link sent to participants prior to the event.
RSVP Here...
Look Who's Coming:
Jim Richardson
Ephi Eyal
Jeffrey Broadbent
U of MN
Margaret Biggerstaff
Minnesota Department of Educatoin
Todd Otis
retired
Elisabeth Johnson
Stripe
Clarissa Volpe
-
Frank T. Manheim
George MASON UNIVERSITY
Dan Katzenberger
Marcella Samuel
Apollo hospitals
Robin Lindbeck
Idaho State University
Anne Brunelle
Chris Morris
Bassford Remele
Margaret Biggerstaff
Minnesota Department of Educatoin
Louisa Moats
Moats Associates Consulting
Jordan Weatherby
RBC Wealth Management
Clarissa Volpe
-
Ted Ferrara
Debra Raymer
John Herman
frank wei
Lisa Wolfe
... a total of 29 guests.
Note: to opt out from this list please sign in, go to My Account and change your preferences under My RSVPs.